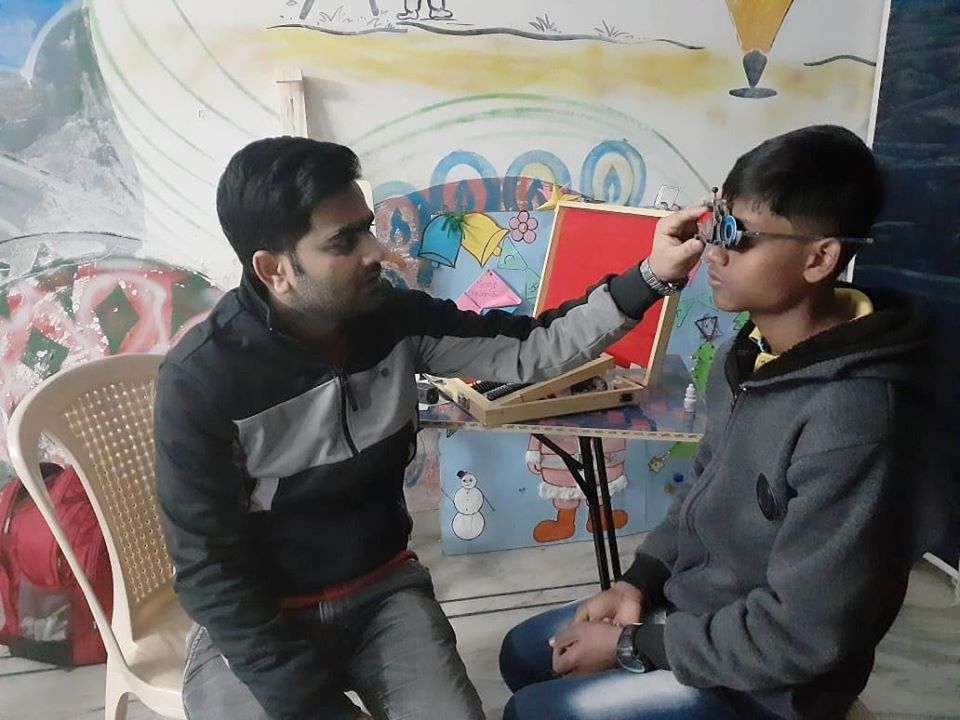 Health Camps

We organised regular health camps and invite senior doctors who are not available on regular basis for secondary opinion on critical cases.

This is also an opportunity for slum dwellers to get one day free of cost services where they  can not afford to pay doctors consultation.

Since 2017 we are conducting camps on a regular intervals in Fazilpur ki dhani (near sector 48 ) and in sector 45 Gurugram, Haryana

Partner: Medanta Hospital, Gurugram and individual Medical professionals
Urban Slum Improvement Project
While the government has taken big strides in improving the lives of the urban poor, the private sector must also start contributing.
We strongly believe that once the primary needs of the bottom of the pyramid are taken care of they will be empowered to contribute significantly to the country's economic progress.
3 years of on groundwork with people in urban slums of Gurgram gave a number of insights to volunteers to DoaR and one was very clear very soon that cleanliness is a big issue among the slums and a major cause of diseases and diseases directly impact the attendance of students in our classes.
While the cause is quite obvious, eradication is not. Governments are trying to put many measures but they do not reach to these slums.
DoaR volunteers recently took a task of put an intervention program in one of the slums they teach. Main objectives of the program were
1. Create a self-sustainable model for community upliftment.
2. Empower people of the community to solve their own problems.
3. Re-create the sense of togetherness and ownership among society
4. Spread awareness regarding healthcare and cleanliness

Phase 1
It was started on Aug 20, 2017 with first meeting to start the work on following
1. Discuss the benefits of establishing a slum committee
2. Spread the awareness among citizens
3. Determine the existing problems
4. Select the primary problems which require immediate attention. And find out ways to solve those issues.


Events in Phase-1

1)A gala community pre-Diwali bash was organised by residents with DoaR volunteers and it was a huge hit. Owners, GMC parshad and all came together to celebrate the event.
It shows that old style community building is still not dead, you just need to give a right purpose to them.

2)Choti Diwali festival to showcase the unity was organised by the slum members where they prepared the meal for their community and organised the festival to showcase their unity.
Phase-2
It started on Oct 29, 2017 aiming the following

Formulation of slum committee

Maintain the cleanliness in the area by regular inspection
Phase-3
From Oct 28, 2018  to July 2019 aiming the following

Quarterly inspection of the work done by slum committee

Maintain the cleanliness in the area by regular inspection

Activities in Phase-3

Every Sunday under the guidance of Anuj ( our volunteer), the slum is getting pained with interesting designs promoting cleaning and hyginene. The art work is stoppoing people to spit tobaco on the walls.
Affordable Medical Consultation

This project aims to provide medical consultation and diagnostics at concessional rate to underprivileged in the urban slum. This program works on 3 principals-
1) Awareness 2) Prevention 3)Consultation
​
Participating doctors charged only nominal consultation fee from patients.

Duration: March 2017 to Sept 2017
Participating Doctors

Dr. Sonal Mediratta ( Radiologist) MBBS, MD
Dr. Rajeev Mediratta (Orthopedic Surgeon) MBBS, MS
Dr. Siddesh Pandey ( Radiologist) MBBS, MD
Dr. Himanshu Agarwal (Pediatrician) MBBS, MD
Dr. Veenu Agarwal (OBS & Gynaecologist) MBBS, MD
Dr. Ritika ( Dentist) BDS

Participating Radiologist
A tie- up with Prakash Diagnostics, Gurgaon ( Dr. Siddesh Pandey ( Radiologist) MBBS, MD) to provide radiology services at 50% discount.